Skip to main content
About
On Sunday 21st June, join the thousands of Victorians coming together to virtually step, roll or rock right around the world benefiting our community's most vulnerable.
Choose from one of the 8 Victorian charities who have united to create this virtual fundraising challenge which enables everyone to contribute and make a difference, without even leaving your home. In addition to counting Steps (walking or running), participants can also Rock (dance, wriggle or move) or Roll (wheelchair, cycle or skate) while tracking progress via fitness tracking apps. Together we're aiming to lap the world, with 50 million steps, rocks or rolls collectively.
So choose your challenge, set your fundraising target and let's get ready to Rock Around the World together!
Step 1
Create your page
Sign up for the Rock Around the World challenge, set a distance and fundraising goal.
Once your page is created you can setup your fundraising team.
Step 2
Log your kms.
Connect your fitness app so your individual effort will add to our collective progress around the world.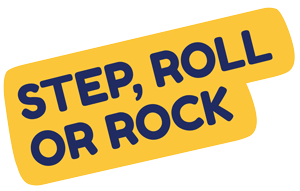 Step 3
Share your page
Show your friends or coworkers your progress so they can donate or create their own pages.
You can also ask them to join you by setting up a team and Rock Around The World together!
Choose a Charity & Register